Ready to take a test drive or get pricing for your next Auction?
Complete the form on the right and we'll be in touch within the hour to schedule a free consultation and product tour!
Handbid engages bidders, drives more bidding, and generates more auction revenue, all while simplifying the auction process for you!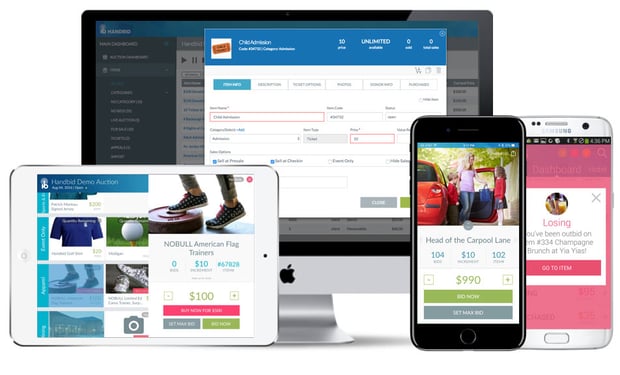 YOUR BIDDERS WILL LOVE HANDBID AND SO WILL YOU!
You can automate checkin, bidding, checkout and payments at the end.
In addition, you will have a real-time view into bids and auction revenue.
Finally, you can communicate with all bidders directly to their phones giving them important updates & messages.
In the end, you will have a sense of control over your auction you never had before!
MORE ABOUT HANDBID
KEY FEATURES OF OUR PLATFORM
TICKETING & MOBILE BIDDING

Native apps for iPhone, Android and iPad (bidding kiosk)
Bid from the Web on your smartphone or desktop
Real time updates and notifications (don't rely on text messages or emails when outbid!)
iPad kiosk app designed for non-smartphone bidders to place bids (multi-user interface)
Game-like, engaging interactive experience for your guests (they'll love it)
Bidders can bid on items and/or place max bids or purchase items
Users can register, buy tickets, and start bidding in the auction anytime!
Setup ticket start/stop times, discount codes and premiums
STREAMLINE CHECKIN AND CHECKOUT

You have the option to let guests register themselves
Sell tickets and have your bidders registered in advance
Import a guest list and quickly check-in guests at the door
Capture credit cards at check-in or allow guests to enter their card in the App
Option to require a credit card be "on-file" in order to bid
Invoices auto-generated. Users can pay directly from their phones or iPad app
Integrated payment system accepts all major credit cards and Apple Pay!
SIMPLIFIED AUCTION MANAGEMENT
Manage all aspects of your auction from an easy-to-user web-based auction manager
Enter in live auction winners and paddle raise appeals and put on a single invoice
Import items, add items,set categories and load photos
Option to setup certain items as event-only (e.g. wine pull) for event attendees only
Preview, start, and stop your auction (using a count-down timer or by category)
View live updates of auction revenue and watch bids in real time as they are placed
LIve scoreboard you can display with thermometers and bidding statstics!
Export all of your data in multiple formats for use in external systems or for reports
NEW! Inventory manager to manage items and inventory outside of auctions!
ALL THE SUPPORT YOU NEED
Expansive knowledge base for self-paced learning (articles, videos, how-tos)

Email, phone, chat support - with direct numbers to call the night of your event

Premium training options if you need customized or 1:1 help
Auction experts if you need somone to show up and "run the show" as a captain/leader
On-Site staff to support your team with registration, bidding, checkout, etc.
There is so much more Handbid does and a lot we can discuss!