PLANNING A SILENT AUCTION?
MOBILE BIDDING IS FOR YOU!
You've gathered some fun TravelPledge experiences and now it's time to optimize your auction results and make the event more fun for your donors. Handbid is a great way to connect with your bidders, raise far more money, and automate your auction. Plus, Handbid is fully integrated with TravelPledge (no need to manually post auction items!)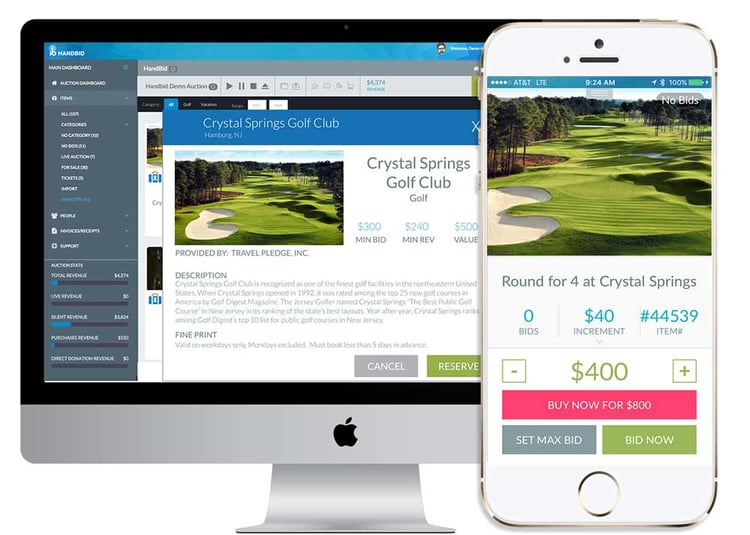 WHAT IS HANDBID?
Handbid is the leading mobile silent auction platform specifically designed to help non-profits raise more money in their silent auction. Specific Benefits to our platform are:
A native mobile

platform

that provides your guests with a fun and engaging experience.
Intuitive & easy to setup and use for you & your volunteers. You can run this system on your own!
Basic ticketing and registration options to streamline your event.
Guests use their own phones and can bid from anywhere at anytime from their own smartphone, the web or iPad bidding kiosks at the event.
Handbid is real-time, which is not the case for most mobile bidding

platforms

.
Fast and direct billing with easy automated checkout, guests can pay on their phones.
We also offer the best support you will find. We know this is a transition for you and we are here to help. When you sign up with Handbid, you become part of our special family and we will be there for you to make sure your questions are answered and your concerns are addressed.
We power the auctions for a number of charities small to large including Boys and Girls Club, Susan G. Komen, the Sacramento Kings, Washington Captials, San Antonio Spurs, and more.
We have numerous testimonials you can read through about real-world experience using Handbid
Our pricing packages are transparent with no hidden fees!
READY TO GET STARTED?
Complete the form to the right and we will get back in touch to discuss your event!